Jet Mixers - "a pilot foreign project"
In 2007 our company managed to carry out the first mixing by Jet Mixers abroad; thus, its vision of obtaining a foreign reference contract has been achieved. Within Europe, this state-of-the-art Canadian technology for mixing crude oil tanks has only been applied at the Central Crude Oil Tank Farm in Nelahozeves by its only proprietor, MERO ČR, a.s.
Thanks to contacts gained by participation at various international associations, conferences and through presentations given between 2002 and 2004, we found a strategic partner for the territory of the Netherlands: Enigma B.V. Netherland.
Together with our foreign partner, we addressed a potential customer, Vopak, which is the largest independent tank operator worldwide; a company operating 74 terminals with a storage capacity of 21.2 mil. m3. Intensive negotiations were introduced in 2005 and included practical demonstrations of the Jet Mixer system during mixing and cleaning at the Central Crude Oil Tank Farm in Nelahozeves.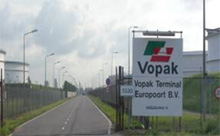 Based on the practical experience gained in Nelahozeves, a pilot project for "mixing the T1042 tank" within a planned tank inspection at the Europoort tank farm in Rotterdam was approved. MERO, together with STP Special Services s.r.o. – the licensee for the Netherlands – provided for preliminary cleaning of the tank by means of Jet Mixers. Thanks to the technology applied, employees did not have to enter the tank, which is dangerous and which usually happens when using regular methods of manual cleaning. The customer required that solid sludge be reduced by at least 70% prior to final cleaning.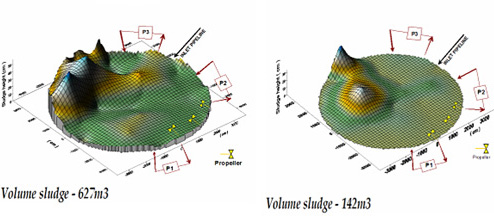 Final cleaning was provided for by Enigma in a conventional way. This combined approach helped to significantly shorten the cleaning time of a tank compared to the traditional way. The volume of solid residues intended for further manipulation and liquidation was significantly reduced, which led to financial savings. Reducing and shortening employees´ stay in the tank with an explosive atmosphere hazard significantly increased the safety of those cleaning activities that are indispensable for tank inspection itself.
The main part of the project took place in July and August 2007. Its implementation was preceded by an approximately three-month-long engineering and organizational preparation including production of special pipe reducers, flanges, and adapters, so that it was possible to connect the technology to the tank and also to use the tank's current properties. All the special components needed were produced by MERO´s Machinery Maintenance Department. In order to prove mixing effectiveness, MERO measuring equipment was applied that is usually used for operational measurements of sludge in tanks at the Central Crude Oil Tank Farm Nelahozeves and that is further used for special sampling within research projects focused on quality of crude oil stored on a long-term basis, which are carried out by the Institute of Chemical Technology in Prague.
Compliance with project timetable; implementation was completed earlier
Excellent preparation, technical support and organization of works
High commitment and helpfulness during implementation on the part of Enigma and Vopak employees
High safety and environmental standard during project implementation – appreciated by Vopak and Enigma
Important reference by a company renowned worldwide
Sludge was reduced by the required 70%
Implementation of the reference contract was profitable