The first oil from the west flowed into the Czech Republic a quarter of a century ago
Twenty-five years ago, the operation of the IKL oil pipeline officially started at the central oil tank farm, which connecting the tank farm in Nelahozeves to the Western European oil pipeline network. Three decades later, during which oil was transported to the Czech Republic exclusively by the Druzhba oil pipeline from the former Soviet Union, today's Russian Federation, the Czech Republic gained an alternative route.
The winner of the competition for the efficiency of electricity consumption among oil carriers is MERO
MERO ČR, a.s. won a competition organized by the International Association of Oil Transporters (IAOT) in the field of efficiency of electricity consumption in transportation in 2019. The results took into account the efficiency of electricity consumption for the previous period 2017-2019.
The seventeenth large-capacity storage tank has been put into operation at the central oil tank farm
MERO ČR, a.s. has completed the construction of a new large-capacity storage tanks, which can hold up to 125 thousand m3 of oil. The new storage tank was built on the premises of the central oil tank farm, where sixteen above-ground storage tanks have been built over the years. With the successful completion of the seventeenth storage tank marked H13, the capacity of the tank farm increased to a total of 1,675,000 m3.
MERO ČR, a.s. is the 100% owner of the subsidiary MERO Germany GmbH based in the Bavarian town of Vohburg an der Donau near Ingolstadt, which operates and maintains the German part of the IKL oil pipeline and the local oil tank farm.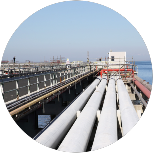 Since December 2012 the MERO ČR, a.s. Company has owned 5% share in companies which owns and runs the TAL crude oil pipeline.
MERO ČR, a. s. (International Pipeline), the owner and operator of the Czech section of the Družba crude oil pipeline and the IKL crude oil pipeline, is the only transporter of crude oil into the Czech Republic and the most important company ensuring storage of strategic emergency crude oil reserves. Both pipelines enter the Central Crude Oil Tank Farm Nelahozeves, where 17 crude oil tanks with the total storage capacity of 1.675.000 m3 are operated..