MERO ČR Vice-Chairman Zdeněk Dundr attends the World Petroleum Congress in Calgary with Energy Transition being the key theme.
Energy Transition: The Path to Net Zero. This was the main theme of the World Petroleum Congress held in Calgary this September. Among the participants was Zdeněk Dundr, who represented MERO ČR as Vice-Chairman of the Board of Directors.
MERO ČR works to expand the capacity of the Transalpine Pipeline (TAL) – the European crude oil pipeline system. Vendors of technology and special components have already been selected
Kralupy nad Vltavou, 25 October 2023 – MERO ČR continues to work on the TAL-PLUS project, which will ensure the Czech Republic's independence from Russian crude oil as early as 2025. This is one of the most significant updates in the recent history of the Czech energy industry. The project envisages increasing the capacity of the Transalpine Pipeline (TAL) – the European crude oil pipeline system; as a result, the Czech Republic will receive an additional 4 million tonnes of oil per annum.
Jaroslav Pantůček, MERO ČR's CEO, at the Green Deal Summit: the Czech Republic will be independent from Russian oil from 2025
The Czech Republic will be completely independent from Russian oil supplies from 2025. MERO CR is fulfilling an important objective in the area of energy security of the Czech Republic and is working on the TAL-PLUS project. The project envisages the expansion of the TAL pipeline capacity.
MERO ČR, a.s. is the 100% owner of the subsidiary MERO Germany GmbH based in the Bavarian town of Vohburg an der Donau near Ingolstadt, which operates and maintains the German part of the IKL oil pipeline and the local oil tank farm.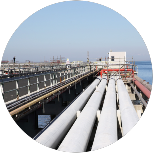 Since December 2012 the MERO ČR, a.s. Company has owned 5% share in companies which owns and runs the TAL crude oil pipeline.
MERO ČR, a. s. (International Pipeline), the owner and operator of the Czech section of the Družba crude oil pipeline and the IKL crude oil pipeline, is the only transporter of crude oil into the Czech Republic and the most important company ensuring storage of strategic emergency crude oil reserves. Both pipelines enter the Central Crude Oil Tank Farm Nelahozeves, where 17 crude oil tanks with the total storage capacity of 1.675.000 m3 are operated..