The TAL pipeline intensification project is approved
Kralupy nad Vltavou, 30 November 2022 – MERO ČR has succeeded in achieving approval for the implementation of the TAL pipeline intensification project (TAL+). The TAL+ plan was approved at the meeting of the Coordinating Committee, the supreme body of the TAL Consortium, held today, 30 November 2022, in Austria.
Crude oil supplies streaming from Russia to the Czech Republic via the Druzhba Pipeline not interrupted
Updated,16 November 2022: The supplies of Russian crude oil via the Druzhba pipeline from Ukraine to Slovakia were already resumed on November 16, 2022 in the afternoon.
Resumpted Supply of Russian Crude Oil via the Druzhba Oil Pipeline to the Czech Republic
The supply of Russian crude oil to the Czech Republic via the southern branch of the Druzhba pipeline was resumed today at 8:00 p.m. The crude oil supply of domestic refineries is proceeding continuously according to plan.
MERO ČR, a.s. is the 100% owner of the subsidiary MERO Germany GmbH based in the Bavarian town of Vohburg an der Donau near Ingolstadt, which operates and maintains the German part of the IKL oil pipeline and the local oil tank farm.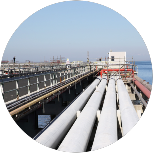 Since December 2012 the MERO ČR, a.s. Company has owned 5% share in companies which owns and runs the TAL crude oil pipeline.
MERO ČR, a. s. (International Pipeline), the owner and operator of the Czech section of the Družba crude oil pipeline and the IKL crude oil pipeline, is the only transporter of crude oil into the Czech Republic and the most important company ensuring storage of strategic emergency crude oil reserves. Both pipelines enter the Central Crude Oil Tank Farm Nelahozeves, where 17 crude oil tanks with the total storage capacity of 1.675.000 m3 are operated..